Updated: July 1st, 2015 (EST) 
---
A new tool-less Came-Mini 2 is out! It's versatile and we are loving it, check out the review here!
A new updated version of the Came-7800 is now available, it is almost tool-less balance! See pictures below. Check out more below.
Like this page? Please consider liking my current project: click here!
You can order it with them directly Came-Mini 2, Came-7000  or the Came-7500 or the Came-8000 click here (comes with the 32bit controller board)
Hello everyone, I've decided to arrange the page a bit again and concentrate more on the latest release of the Alexmos Controller Board and make this page easier to read.
---
This is a page about the Came-TV's Came-7000, Came-7500, Came-7800 and the new Updated Came-7800 and maybe the Came-8000 (or any 3-Axis Brushless Gimbal of the similar build) with the Alexmos 32bit controller board (for 8bit controller board, please click here), I will try my best to put all the information on one page and will be updating this page constantly so this would be a great place to start with your journey into these gimbals. If you are still using the 8bit controller board, it's time to move to the 32bit bit. (For information on the 8bit controller board, please click here)
I've now changed my Came-7000's 8bit controller into the 32bit version, I've also recorded myself of my process, see video how I did it (unedited)
My current setup to be used is the Came-7800 using the GH4 + 12-35mm F2.8 lens + cheap quick release plate (not recommended after a few trial runs) to total the weight to be around 2.6lbs. The Gimbal process is 3 parts:
Build the gimbal or assemble it all together
Balance the camera+lens+sdcard (without the lens cap)
Tune the software to make it 100% or close to it. (May no need to do this with the Came-7800 as it came pre-tuned for various cameras).
---
PLEASE READ IT A FEW TIMES THE WHOLE THING BEFORE STARTING, ALL YOUR QUESTIONS ARE ANSWERED HERE.
---
My Videos:
First thing first: My Review on the Came-7000 which is look the same as the Came-7500 and similar to the Came-7800 except that all the wires are already pre-assebled by Came-TV, you still need to tightens the screws using a tool kit set which I have listed at bottom of this page.
For my test running with the Came-7000 8bit gimbal, see here:
For my test running with the Came-7500 32bit gimbal using the GH4 and 12-35mm F.28 lens:
For our fun video about The Evolution of Stabilizers:
For our current project: A Fan Film Teaser that included the usage of a gimbal, to watch the finished Episode 1, click here. 
We recently was hired to do a series of videos for Confucius Institute of Cleveland State University, here's one shot done using the 8bit gimbal and the Atlas Camera Support System.
9-20-2014, took our Came-7500 for a test run at the Cleveland Dragon Boat Festival:
How quickly is to change lenses with the Came-7800:
A video review of Atlas Camera Support System's latest product the 2-Rod Support System with the Came-7800:
A quick video review of the Atlas Camera Support System's 1-Rod Support System with the Came-7800:
---
For more information about the Came-7800, click here.
Background: Why I started to learn about 3-Axis Brushless Gimbal and how to build your own Came-7000. Please click here.
---
PROCESS: Here's a quick glance on how to get it going:
Get a tool kit set instead using the L shaped key
Charge the battery
Get a Gimbal Stand or two light stand or build your own
Assemble your Came-7000 or other similar typed gimbals. (click here for more info)
Balance your camera (Camera, Lens, and everything that needs to be on the camera for the shoot, except lens cap or microphone)

Use a quick release plate if need to (for Came-7000 or Came-7500, it would be harder to balance though and you may need to take out the top horizontal bar above the camera)
Adjust each axis to balance the camera+lens (so it can stay on whatever direction you have it place).

Relax
Install the driver to your mac or pic (you can find it here)
Download and install the GUI software (to tune the gimbal – 32bit controller), click here for the info.
Read the GUI manual (if you are confused don't worry)
Plug the gimbal to the computer vis USB to MicroUSB cable
Tune the gimbal to your most satisfactory (this is the hardest part)
Re-read the GUI manual (now you should understand it a bit more)
Retune if need to
Go do some running and testing
DONE
---
Accessories I would recommend:
Don't throw away the box that came with your gimbal, it can be useful, as the foam can be used to build your own box that so you can carry the complete set. I used to use a Pelican Cube but now I switched it to this: A Pelican 1600 case with the original packaging foam. I do have to take one of the horizontal handle bar off and the top part of it, but with the tool kit, it was a breeze. (about 5-10 mins setup time on location) This case can also be used with the Came-7800, you just have to loosen up one of the handles and the top handle too. (Came-7800 users can also consider the Pelican 1640)
NOTE: The Stand isn't bad, smaller than the $150 heavy duty one I got. It can be taken apart or put together within 5 mins (takes time if you are first timer). The Soft-case (not hard case as Came-TV claim) is very counter productive. If you have already balanced the gimbal and try to put it in, it will NOT 100% if you are using a gh4 or something that is smaller and requires some 'adjusting to do'. For me, I have to loosen up the screws to the YAW so I can fit it in. overall it is a very poorly designed case. And it is not airport safe, you should consider another hard case to put it outside of this when transporting.
If the Gimbal gets heavy and you need something to support it (like a Stabilizer vest), you can either spend for about $2k for an EasyRig or a ReadyRic, or you can consider this: The Atlas Camera Support System.  For Gimbal users, consider the 2-Rod System, it is really versatile and useful, check out the video above.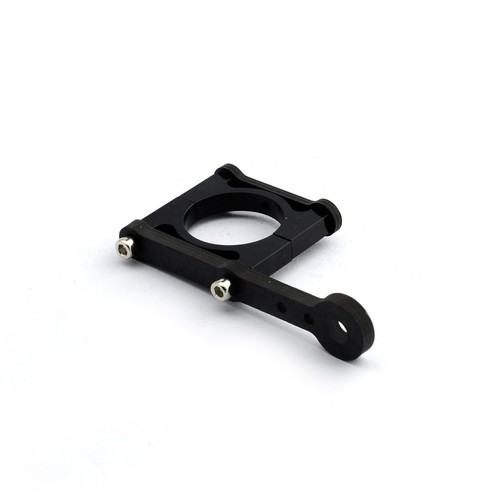 Need another 3s 11v battery? Consider this: http://smile.amazon.com/gp/product/B00FMYY2OE/ref=wms_ohs_product?ie=UTF8&psc=1
---
The Came-7800 came and it seems the cage for the camera is slightly bigger than the Came-7500, as it needed a quick release plate. the rest looks the same, when you first open the box, there are few areas that you will need to tightens once it is balanced, so take your time. Below after the pictures, you will find all the videos how to balance the Came-7800. (The Came-7800 has the same motors as the Came-7500)
Below is the video of the Came-7800 after balanced by a member of our team that has NO prior experience with gimbals. Out of the box without tuning, and this is the result.
And here is the part 1 of how to balance your Came-7800, this is the introduction and differences between the Came-7500 and the Came-7800.
Here how to balance the Came-7800 with a DSLR. This is the important, unlike many other videos that failed to explain, you must balance the horizontal bar (right behind the DSLR placement) before you use the quick release plate to micro-balance. If the horizontal bar is not balanced correctly (normally to keep it about 90 degrees with the back vertical bar), then it is not balanced. NOTE: Some users has gotten their gimbal with the horizontal bar (the one holding the roll motor right behind the camera plate) is now tightens, so the part of my video where we have to adjust our is no longer necessary. We had to adjust ours as it came lose and it was required.
And finally, here's how to attach the other items like the Battery and the Monitor:
As you can see, out of the box, it worked. and here's the actual profiles from the Came-7800 that we used and tested with 3 cameras/lenses settings: Gh4+12-35mm, Gh4+14-140mm, and Gh4+Rokinon 14mm+speedbooster. On All these, the Came-7800 handled it without software tuning. We also tried the Came-7800 profiles on our Came-7500 and it worked as well (not as much as it should be compared to the Came-7800 but it surely can be the start – software tuning will most likely be needed). You can try out the Came-7800 profiles by clicking here.
At the Facebook's Brushless Gimbals group, user Jefta Varwijk has kindly offered his profiles for anyone interested, this is for his 3_DYS_Eagle Eye Gimbal and it should also work as it's the same build. See below below:
profile1: fast follow pitch/yaw
profile2: slow follow pitch/yaw
profile3: follow pitch
Download it now by clicking here.
---
Changing Lenses?
So, a few users on forums been asking me, how easy to change lenses with the Came-7800? EASY: It can take less than 1 minute.
Here's Tony Vo's unboxing video, he is the master of gimbals.
---
Conclusion:
So, we have been asked if it's worth the money to upgrade? Yes if you have the Came-7000 and would like to get the next best lowed price gimbal, the Came-7800 would be a good choice. If you have the Came-7500, you wouldn't see much of a benefit to upgrade to the Came-7800 if you already gotten the Came-7500 tuned (unless you need a bigger camera holder-cage and the quick release plate. If you just venturing into 3-Axis Brushless Gimbal, then the Came-7800 should be considered.
Yes, it is not the Movi, nor a Ronin or BeSteady,etc. but at the end of the day, it is a working gimbal that can do the job and do it as well as those mentioned before at the at an affordable cost (on sale now).
Can you Add a Bluetooth board to it so you can connect via table to tune the software? YES. the controller board on the Came's gimbals are the authorized Alexmos controllers and  you can open it and add bluetooth if you plan to access the GUI via bluetooth.
OR
You can get one of those cheap Windows 8.1 tablet, like the Microcenter's Winbook 10.1″ 32bit tablet and can install the programs and use that to tune via usb port. The tablet is $199 currently or sometimes you can get open box version at $159.
What can you do with the Came-7500 or the Came-7800, a lot of different modes, yes, you can get it inverted (if you tune it right) or you can do briefcase mode, as I've done below (both using the Came-7800 profiles I have available above)
Here you see the Came-7500 and Came-7800 in briefcase mode (without software tuning), this is just balanced and run.
ALSO: Just discovered that the screw to attach the camera to the release plate can get lost easily so if that happens, you can take the one on the bottom of the plate (replace with something else) and use those, they are the same. or find extremely low profile ones.
A few users has been experiencing problem with the gimbal where when balanced completely and turns it on, the roll slowly drifts a bit and so it gives a slight tilt. You can check on the back horizontal bar (the one connected to the Roll Motor or the one behind the camera cage) and readjust that bar, or you can go into the GUI and either do an auto-tune of just the ROLL.
The other cheat way to adjust that is to change the control of the joystick, instead of allowing the joystick to control the YAW (which is kinda useless), set it up to adjust the ROLL instead, this can be done under the RC Tab.
Jan 13, 2015 – Today, I've rebalanced my gimbal as it was slowly drifting upward, so, I decided to also updated the firmware to the latest (2.43b9), and using the same profiles that came with my Came-7800. I updated the Came-7500 and the Came-7800, loaded the profiles and done! Still working!
---
Updated Came-7800
We received a new updated version of the Came-7800. It has knobs.
The new version has better handles, and the tool less knob adjustment DOES help with the balancing but it is not enough, my gimbal's back vertical bar came crooked, so I have to align it and that really threw off the GUI. lol Since I have already the previous 7800, I can just adjust the cage size to be the same, and within 10 mins, I had it balanced with the knobs. when I turned it on, it works, but the tilted due to the bad packaging/lock down when they shipped. The stand is 'short' on the length so you have to 'push the vertical bars closer to be able to put the handles in. other than that, nothing new. New stand took more time to put it together, I don't like it. lol New case is a bit better in form factor wise, so the gimbal fits at ease. If you do have to get the gimbal, get the updated 7800 instead. if you don't adjust the bars like I do, then you actually have it right out of box working, but if you are anal as I am, you will at least need to go into the GUI to acc and imu calibrate. 
Check out the pictures and videos below.
Before we start with the review and such, did you know you can quickly calibrate your gimbal right after on location setup? Here's how:
Oh, one more thing, can you tell which video footage is from the Came-7800 and which is from the Moza Gimbal?
And here's our review:
With the tool-less balancing design, now one can easily change cameras without taking a long time, here we are showing you how you can change from a GH4 setting to a A7s. We didn't do a YAW balance is due to the sizes of the cameras were similar, so there weren't much of a PITCH adjustment, in other times, when the sizes of the cameras differs a lot (like going from a GH4 to a Canon 70D), then you should readjust the YAW knob.
---
DID YOU KNOW?
The New Updated Came-7800 Stand can also be considered as part of a car mount once you get 4 sets of suction cups for the legs? See, now you get to put the gimbal on the stand and on your car's hood
So you will need 4 sets of these: http://smile.amazon.com/gp/product/B0023ZK2TY/ref=oh_aui_detailpage_o02_s00?ie=UTF8&psc=1
And here's the video:
Although it is not perfect, but it can be used, on a very flat, no pot holes road, check out this video:
---
Please have a lot of patient, it takes a bit of a time to balance it right, once you have the camera+lens balanced, you should be able to swing on any angle with the camera and it would stay there.
Many people keep asking what sort of lens you need, the answer is SIMPLE: use a lens that provide you a wide angle (a prime or a wide angled lens – several suggested something from 11mm to 35mm) simple because you are using a stabilizing system and would need to be 'close to the subject', while using zoom lens are not suggested, you can, just may have problem maneuver it.
Also, before buying a gimbal, find out what camera and lens you plan to use it with and stick with it, otherwise you will have to deal with balancing it every time and it can take a LONG time.
Find out the TOTAL weight you plan to have on the gimbal, the Came-7000/Came-7500/Came-7800 can hold up to 6.6lbs (about 3kg), that means, for example: My Canon 70D with battery is 1.7lbs + my Rokinon 14mm is 1.2lbs, my total would be 2.9lbs, or the Panasonic GH4 + 12-35mm lens for a total about 2.6lbs.
Now,  mount the camera/lens to your gimbal, make sure anything else you want on the camera is there and anything else should set the lens to IS ON if it has one. Take out the lens covers, since you need to balance the camera on the gimbal system, anything extra will throw it off. I used these videos from Youtube user TonyTypes.
They are really good to understand how to balance a Gimbal. it's in three parts, see below
You basically need to adjust the camera bracket (top and bottom part) and then the horizontal bar behind the camera (where ROLL is attached to), be VERY careful because you have the camera mounted, it can 'slide' and throw you off balance. Here's a video how the camera should stay when it is balanced:
It took me about 45 minutes to get it balanced. When you got it all balanced out, tightens the screws! I kept forgetting to do so and every time I store it away on a Pelican 0340 cube case (btw, fits 100% snugged but since then I've moved to a Pelican 1600 with the original packing foam that came with my gimbal), it gets unbalanced and I have to 'turn the screws again'… Learned! The 32bit version of Came-7000 comes with a joystick and the you MUST install the joystick with the controller.
For the 32bit Alexmos Controller, it comes with 2 IMU sensors, Came-TV has offered these pictures where they should be placed, click on the pictures to enlarge them:
For 32bit Came-7000 gimbal build and setup:
CheesyCam's Emm just released this good tip video for those who has a Came-7000/Came-7500 (8bit or 32bit) that make it much more stable. Also, he has a PID Profile settings available for anyone with the 32bit version), Click here to download CheesyCam's 32bit Came-7000 PID Profile Settings. He also created an entire page with several how-to videos, click here for more.
---
OK! You are ½ way there! The next step is software tuning. Before you do that, you need to make sure your computer (PC preferred but the new 32bit version can also work on Mac system.) can communicate with the Alexmos controller board, so you first need to download the driver for your computer, then the Alexmos controller board's firmware and the GUI software to run it. (Make sure to turn the power on as well on the gimbal when doing tuning)
NOTE:  MicroCenter.com sells a Winbook TW100 10.1″ Windows 8.1 tablet (full 32bit version of the OS) for $199, and it comes with a USB3 port, I've tested with my gimbal (after installing the driver and the GUI software for tuning), it works!
You can find all the download at Alexmos website or the quick glace part of this page. I am using GUI and firmware version 2.42b6. If you hear a high pitch sound when first plug in the battery to the gimbal, that's normal, you just have to go to the advance tab and under PWM frequency changed it to (HIGH (silent)). If you plug the battery to the gimbal and it shakes uncontrollable, do not panic, that is normal, it is because the controller board on the gimbal do not know what to do yet, so you need to follow the tuning instruction below.
ALSO, please KEEP the camera without the lens cap on the gimbal while doing software tuning, without the camera it will move/jerk like crazy. A few users had expressed problem installing the driver and such, here's a good video that would help:
You will also need the Java run time installed, as the SimpleBGC GUI is Java application. It can be downloaded here here's a  video about GUI and a quick tuning explained (this is old but good reference point):
Here's a good PID explanation to get you started, thank Timo:
I watched this video to give myself an idea:
Once connected, first thing I did was to update the firmware, the new GUI has an option to upgrade the firmware, and if it doesn't work at your satisfactory, you can always use it to downgrade.
Remember to make sure to use the latest GUI software so you can upgrade or downgrade firmware.
Your next step is to do a detailed IMU Calibration (ACC Calibration), which is called a six-point calibration (you do NOT have to do this now, as I didn't with the Came-7500 and the current GUI is very intuitive to make sure it works well).
WHEN YOU HAVE THE GIMBAL PLUGGED TO THE COMPUTER and after ACC Calibration, your gimbal/motors will start vibrating or moving all other the places, DO NOT PANIC, this is because the gimbal is yet to be tuned and so the motors do not know what to do, you can do this: use my profiles (and other users' profiles available for download below) load the profile and then WRITE. that will help 'stop' the vibrations or erradict behavior a bit. AND you can start FINE TUNE IT since the weight may not be the same for your camera than theirs or you can do AUTO-TUNE option (a cool feature now included on the 2.42 GUI) Here's another good tuning tutorial
Tony Vo, a talented gimbal builder has graciously offered his PID settings below, he is using a 32bit controller card. Here's what he has to say: PID settings for the Came-7000 gimbal sing a 3s lipo battery. This setting is for a 5Dmk3 16-35mm lens and will also work with lighter cams like a Canon T3i. This is my sweet spot and you guys may need to slightly change the values as not all gimbals are the same. Please click on each image to view larger size.


Second sensor is mounted below the yaw motor just like how Came has it mounted. (See pictures above) Tip: Make sure you properly set your sensor orientation or his settings will not work for you.   Here are some pictures (you can click each picture to enlarge it)
Here's a short video of me changing the controller board from 8bit to 32bit. Use this a reference, I may have to adjust a few things later:
And here's how I balanced the Gh4 with 12-35mm lens on the gimbal:
And finally, you need to balance the YAW which I didn't realized until just now. lol So, check out this video by Tony Vo!
I still need to adjust my settings but after adjusting the YAW, I can now almost go extreme with mine. (my final profiles for Came-7000 and Came-7500 is available below)
Some of my observations when changing the 8bit controller to the 32bit:
Carbon fiber conduce electricity so put an electric black tape between with the imu sensors
If you base your setup with came-tv videos, make sure you re-adjust the joystick, have the connectors to the joystick points upward or you will have to reconfigure the settings in GUI under RC.
Emm's profile works the best compared to what Came-TV provided, I've modified it to make it works better with the Gh4. (coming soon)
before starting, only plug the usb to gimbal first then to PC (doesn't work well with mac) and then turn the gimbal on.
run the program and do an erase eprom to have a clean start
go to upgrade tab and upgrade to the latest firmware
Do the calibration:

keep the gimbal on the perfect position you want first
once it is steady and the way you want it
select camera imu and click CALIB Acc  (you do not need to do the 6-point IMU ACC Calibration)
then select Frame IMU then click calib acc
now WRITE

make sure camera is positioned the way you wanted it then press Calib Gyro
load a profile (use Emm's for example) and then write to gimbal
if you plan to use multiple profiles, you can have different cameras set for each profiles and so you will have to do calibration per profile.
Gyro calibration helps stabilize the  gimbal
---
AUTO-TUNING: Here's a good starting video about auto tuning:
Here's Emm from CheesyCam made this video that would explain how to do it:
---
PROFILES:
Cinematographer Tom Antos uses a 7D with 24mm lens that is about 3.233lbs or 1466.46g (Click here for direct download link)
Came-TV also provided me a rar file with 3 PID profiles for the 32bit controller board, once the joystick is installed, you just need to load these profiles and you should be able to easily run with any cameras (according to them from GH2, GH3, Gh4, 5D2 or 5D3) 500g – 2000g , click here for the rar file.Update: July 1, 2014: Came-TV just sent me another set of profiles in English, Came-7000 and Came-7500 profiles English.
My observations and my GH4 profiles (9/14/2014):
I've learned a bit more recently, thanks to Tony Vo's suggestions via chat, this is what I learned:
– make sure you have full power on the battery
– turn the gimbal on and then plug it to GUI
– use the latest version of software and firmware if you can
– go to Service tab and on Calibrate for voltage, put in the right info, for 3s 11.1v use 12.6 (make sure the battery is fully charge) so it can provide accurate battery info
– breath
– Double check your motors power and poles info, you can do auto, but most of time use what is already there. For Came-7000 the poles are 22, 22, 14, for came-7500 I have 22, 22, 22.
– breath
– uncheck gyro calibration on startup, this would help stabilize the gimbal when you turn it on.
– You do not need to do 6point calibration if your IMU is already enclosed and boxed up, all you do is make sure it is level/balanced and acc calibrate both the Sensor IMU and Fame IMU.
– Autotune works if you have patient and let it does the job, ONE by ONE, and when that is done, you may see something that said "motor is missing steps" don't panic.
– Once it is tuned, unplug and test it around, if you hear motor making noises, find out which axis and lower the pid info.
– make sure the joystick work, you may need to play with it a bit, for came-7000 and came-7500, it is an analog joystick.
– if one axis is drifting slightly, check under RC tab, scroll all the way to the bottom and do an AUTO (this was something I didn't realize it exist until today)
– once the first profile is done without follow mode, then create one with it. Here are two of my profiles I'm using now, pending testing
– but if you are interested: Click here for Profiles for Came-7000 with 32bit controller with Gh4, and Click here for Profiles for Came-7500 with 32bit controller with Gh4 and a quick release.
---
A little break: Came-TV will be releasing the Came-8000 shortly. The Came-8000 is made for BMCC or the RED Epic, here's a video demonstration:
---
That's it! I hope these are helpful, and if you need other supports, here are some recommended links:
For anyone need help, check out this great Facebook Group.
http://www.multikopter.co.uk/forum/forum/86-3-axis-gimbal/ https://www.facebook.com/groups/TBCGG/
https://www.facebook.com/groups/162469577283791/ http://www.rcgroups.com/forums/showthread.php?t=2035107&page=2
http://www.unmannedtech.co.uk/3/post/2013/12/balancing-your-brushless-gimbal.html
http://www.foxtechfpv.com/product/falcongimbal/FOXTECH%20FALCON%20BRUSHLESS%20GIMBAL%20OPERATION%20MANUAL.pdf http://jodagimbal.com/?paged=3 http://www.dronetrest.com/t/balancing-your-brushless-gimbal/55/2
---
ADD additional accessories for your gimbal, here are a few links where I buy stuff at 
  If you live in the USA, you can buy parts for your gimbal here (I got a stand with them, a joystick with button to control profiles, a monitor tray): http://www.aerialpixels.com
NOTE: Came-TV.com also now have Gimbal stand available for sale, you can probably find cheaper ones via aliexpress.com as well (many RC hobbyist buys from this site from all the forums I've read)
For other accessories, I shop via Amazon (as I have Prime)
– I use http://smile.amazon.com  as it will allow you to give some $ back to charity of your choice.
For a basic controller enclosure, I've gotten this (if you use the basic shipping it will get to you in 20 days or so, also I didn't use the swith, I was lazy): http://www.aliexpress.com/snapshot/6031343305.html to avoid shorting out the controller board with the box (it seems to pass through electricities),  I used a 3M double sided tape. I've seen pictures of people using plastic screws
click below picture to enlarge to see those plastic screws. Just found them on ebay, they are plastic m2.5x8mm screws (or you can use m2.5x10mm) and the plastic m2.5 nuts.
Emm of Cheesycam.com also did a video on using a project box to cover up the controller, check it out!
You may add this to the support system so you can easily attach/detaache from the gimbal. A cube Pelican 0340 or 0350 (2″ wider all around) case that can fit the gimbal straight down: http://smile.amazon.com/gp/product/B004AICE5C/ref=oh_details_o02_s00_i00?ie=UTF8&psc=1 (Note: I've now using the Pelican 1600 with original packing foam – see at top)
Want to do wireless hdmi out monitoring? Try this: http://smile.amazon.com/gp/product/B009E6R89C/ref=wms_ohs_product?ie=UTF8&psc=1 and you will need a battery backpack for the wireless transmitter: http://smile.amazon.com/gp/product/B009USAJCC/ref=wms_ohs_product?ie=UTF8&psc=1 
NOTE: with the Panasonic GH4, you just need a quad core android tablet or an Ipad Air and you are set to go, since the camera can connect via wifi and with the Panasonic Image App, you can actually control everything via the tablet. Great and easy way to do remote control
Need a 5" monitor with video out loop? Either SmallHD DP4 (about $500), or MustHD (about $205) http://www.musthd.com/products/5-inch-musthd-lcd-hdmi-field-monitor-with-focus-assist-marker-false-color-41.html
To connect the monitor to the DSLR, you may need a cable that is about 3ft long, after a while of searching, I finally found one that has the 90degrees angle turn the right way (upside for Canon DSLRs at least), http://www.ebay.com/itm/260984380154?ssPageName=STRK:MEWNX:IT&_trksid=p3984.m1439.l2649 or you can use the ribbon one I have posted above for the Gh4 to the Monitor. I didn't go with curly cables because they usually may restrict the gimbal to move. Wanna have wireless control to an Android phone or tablet? http://www.dslrfilmnoob.com/2013/12/11/tp-link-tl-mr3040-wireless-field-monitor-dslr-controller/ Another monitor or mic holder: http://smile.amazon.com/gp/product/B00585CLVS/ref=oh_details_o03_s00_i00?ie=UTF8&psc=1 (this is what I am using right now, it's ok, I am looking for something that I can move around a bit more to adjust monitor view.
You may need a few velcro straps to attach the battery to the gimbal, either this one or this one will work.
---
NEED MORE HELP OR RESOURCES? USE GOOGLE SEARCH or FEEL FREE TO CONTACT ME via EMAIL (It's much easier) Also, some issues may need you to videotape the problem so it can be easier to explain.
---
Here are some pictures of my Came-7000 3-Axis Brushless Gimbal Stabilizer System for DSLR (up to 6.6lbs)
For more pictures of my Came-7000, click here. I wanted to give a shout out thanks to the following: Frank from Came-TV, Emm from Cheesycam.com, Tom Antos from TOmAntosFilms.com, Deejay from DSLRFilmnoob.com, Caleb from DSLRvideoshooter.com, Mike Bacanu, Jason Wang, Joe Insana, Michael from Atlas Camera Support System, and the Dragon Dance costume.